The 4th international short film competition We Art Water Film Festival present its new jury
September 27, 2017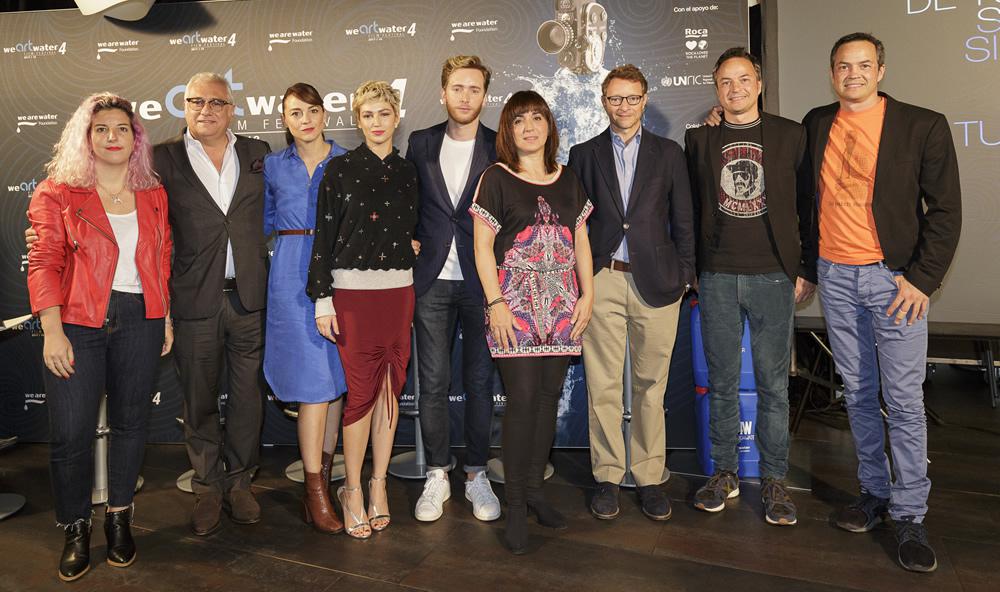 Celebrities from the film industry such as Úrsula Corberó, Leonor Watling, Pablo Rivero, Irene Escolar and Yvonne Blake will be part of the jury
We Art Water Film Festival will deliver a total of 10,000€ in prize
Exclusive première of the short film 'El hombre de agua dulce' ("The fresh water man"), by Álvaro Ron and Rosana Tomás
The 4th We Art Water Film Festival,organised by the We Are Water Foundation, has launched with the presentation of the new jury within the framework of the 65th San Sebastian International Film Festival.
Leonor Watling, actress and singer; Úrsula Corberó, actress; Pablo Rivero, actor; Irene Escolar, actress and Goya award winner for Best New Actress; Conchita Casanovas, film critic at Radio Nacional de España; Yvonne Blake, President of the Spanish Academy of Motion Picture Arts and Sciences, figurine maker and winner of four Goya and one Oscar awards; along with Sergio and Javier Torres, chefs with one Michelin star; Rosana Tomás, producer in Los Angeles; and representatives from different institutions engaged in international cooperation such as Carlos Jiménez, Desk Officer at UNRIC; and Xavier Torras, director of the We Are Water Foundation, are the members of the new jury, the ones in charge of choosing the winning short films in this new edition of the Festival.
The short film 'El hombre de agua dulce' ("The fresh water man"), by the filmmaker Álvaro Ron and the producer Rosana Tomás, in collaboration with the We Are Water Foundation, premiered exclusively at the presentation event. The key goal of this project is to provide visibility to the problem of droughts and the importance of a good water use and it is as well an inspiring element for the participants in this fourth edition of the Festival.
The director of the We Are Water Foundation, Xavier Torras, explained that, "according to United Nations, 2.4 trillion people do not have access to adequate sanitation facilities and in many cases they do not see this as a problem. The film industry is a universal channel, able to raise awareness and even educate on the water culture and sanitation, basic elements for people to have a dignified life."
Registration for the competition can be carried out through the official website of the Foundation – from the 3th October 2017 to the 2nd April 2018. All projects need to be based on the theme "water and sanitation" and should be from one to three minutes long. The different available categories are micro-fiction, micro-documentary or micro-animation. The participants in each one of these categories will compete for a 3,000 € award. Moreover, the votes from the public will give participants the opportunity of gaining a 1,000 € award to the most popular short film.
After the success of previous editions, the We Art Water Film Festival consolidates as an international reference in the dissemination and awareness-raising of the water and sanitation problem all around the world through filmmaking.